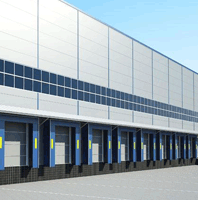 Brief Introduction

SUBEI HIGH- TECH
MAGNESIA CO., LTD.




Subei high- tech magnesia co., ltd. was established in 2007, and located in Subei county, Gansu province,Northwest of China, where the company owned a cryptocrystalline magnesite mine with large volume reserves(conservative estimate:one hunderd million tons). Now the mine is open exploitation, and the mined ore is white color, low silica , low iron and is high-purity grade. The ore is mainly used for producing high purity and high activity magnesia, magnesium hydroxide: two products series and total 5 specifications' products. So our company is the first and special producer of magnesium series of products in China, since we had built a whole vertical integrated production system from magnesite ore mining, floatating benefication and suspension calcinations further processing to the final products.




Our company had set up a long term and stable cooperation relationship with many famous universities and scientific research institutions in China, and at the same time we had built a modern standard laboratory equipped with complete and advanced testing devices and instruments, all of above shall ensure our technology developing and innovation going well. And made us always be in the leading position of magnesium industry.




We are devoting to grow up a leading company in magnesium industry in the world. And can offer our magnesium oxide and magnesium hydroxide series products to the application in environment protecting, industry , agriculture and other field. We had succesfully sold some products to Japan and Europe market.
SUBEI
HIGH- TECH
MAGNESIA

Industrial Grade Magnesium Oxide

Using the selected natural magnesite as raw material, through our traditional shaft kiln calcining,mesh screening and grinding we can get the superior magnesium oxide

Active Grade Magnesium Oxide

Using the selected natural magnesite as raw material, through our traditional shaft kiln calcining,mesh screening and grinding we can get the superior magnesium oxide

High Purity and Active Grade Magnesium Oxide

Using the selected natural magnesite as raw material, through our know-how floatation technology to purify and calcined in our gas suspension thermal reactor.we can achieve high purity and active grad

Industrial Grade Magnesium Hydroxide

Using the natural magnesite as raw materials, with our patented refining process,We can produce high purity Magnesium Hydroxide powder.our products can be widely used in paper, water treatment and oth

High Purity Magnesium Hydroxide

Using the natural brine as raw materials, with our patented synthesis process,We can produce high purity Magnesium Hydroxide powder。our products can be widely used in paper, water treatment and other
Dangcheng Industrial Park, Subei County, Gansu Province

86-0937-5810196

sbmhkj@163.com

86-0937-5810189

COPYRIGHT (©) 2017 MAGNESIA 陇ICP备17002103号-1
Design by advery